Some time ago I asked a well-known Georgian mountaineer, "Who should I climb Ushba with?" and got the stern reply "with friends"! I'd now reply in the same way.

Authors: Anton Balitskiy, Sergey Ichenets
22 ropes, 25 hours on the road, reverse gear lost, but so much experience. Here's what happened.
Of all the remaining roads to Ushba, the most accessible is route 4A from the north – but it's also the most dangerous. Not technically speaking, but because of the conditions: glaciers, rock falls, avalanches… A lot of people advise taking the 5B Gabrieli rather than risking the north road, but we decided on the 4A.
We got our gear together, packed our backpacks, and set off.
The trekking trail gradually turned into a glacier densely covered with millions of stones. We had no problems clearing the lower part of the glacier, but at 2900 m encountered an icefall that blocked us from going any further. An Ushba icefall is a mass of ice with a totally unpredictable form. Its appearance resembles a labyrinth, with a lot of paths leading to dead-ends that contain hidden dangers. The trail has to be sniffed out, hunted… our plan was simple: to get up early and move quickly.
So the following day that's what we did. Five hours and one rappel later, we had already reached 3900m. Ahead of us was a terrific place to set up camp. While we were climbing, the things we saw acted as constant reminders and made us think: a single boot that looked like one from 1970s adverts, part of a Soviet tent, an old rusted carabiner with a piece of hemp rope, a broken USSR-era ice axe. It was as if the mountain was getting rid of unwanted objects, discarded things that had once belonged to some person or other. As the border guards later explained: people's bones are recovered for identification purposes but their belongings are left behind. A spine-chilling thought – after all, this is just a mountain pass, but it looked more like a battlefield.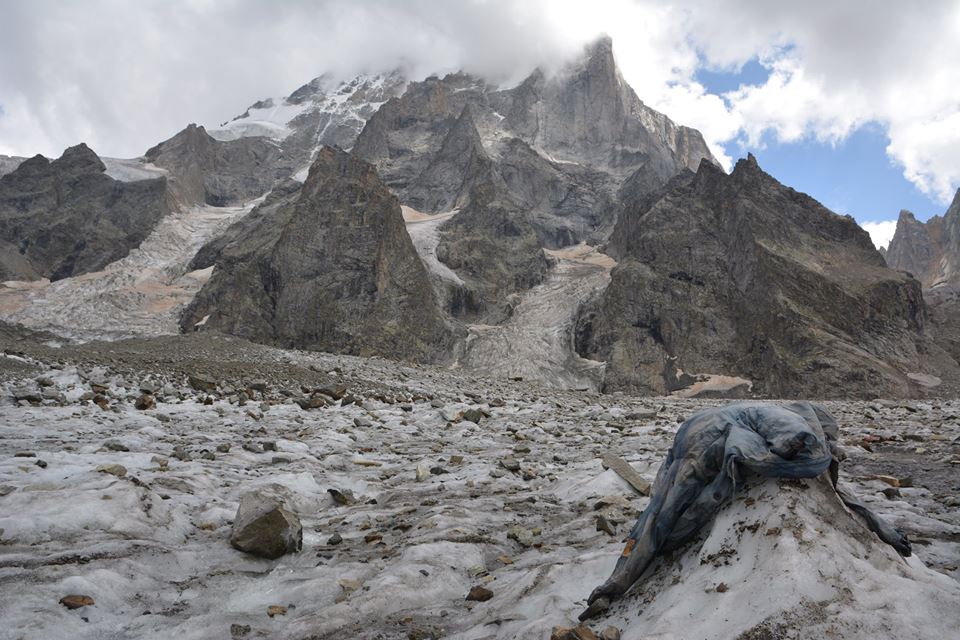 On the plateau, we met a couple of climbers and decided to join forces. It was both fortunate and necessary: we made new friends, and as a foursome were better prepared for any problems encountered en route.
We got up at 2 am, met the other guys at 4 am at an altitude of 4100m, and on we went. There was almost no wind, we planted ice screws one after the other: working and ascending the whole time. 12 pitches later and we were on the ridge! We had passed the crucial stage of the route and had reached a height of 4500m.
At 13:30, it's already late. The ridge isn't supposed to be difficult, though, so we can climb at the same time. However, we have to drill more ice screws, loop more rope. The whole damn ridge is covered with ice! Our plan to climb at the same time doesn't work out. We have to go one by one, which significantly slows us down.
After the tenth pitch we see an icy peak ahead of us, and behind it… the summit! Another step, and beyond there's one more. S***!!! It's just another pinnacle in front of the summit. But there it is – really close. Our GPS reads an altitude of 4648m. How many pitches to reach the top? Two? Three? Five? It's already six in the evening. Shall we go on? Will we make it before dark? But what about the ridge at night? What about the summit? And then descending? What do the others think? Do we have enough strength? Is it going to be safe? All these thoughts flash through the mind in a second.
We were only 40 vertical meters and 200 horizontal meters off reaching the summit.