Backcountry Basecamp is set up in the mountains of the Greater Caucasus at 1,820 meters above sea level in a 40–60 min drive from the nearest town of Oni (Racha region). It is located in the north valley at the edge of a forest area and has the most stunning vistas of the surrounding peaks. The location is accessible from an auto-road by both skitour and snowmobile.
Basecamp has direct access to skitour routes in both forest and alpine terrains. The diversity of runs is the key feature of the location. There are options for different weather and avalanche conditions, and wishes and fitness of a group: from shallow and relaxed fields to steep and technical slopes.
The highest elevation accessible by skitour is around 3,100 meters. Average vertical drops are 200–400 meters in the forest area and 400–1100 meters in the alpine area. Predominant expositions are North, West, and East.
We strive to provide the most comfortable environment for the winter backcountry experience. Backcountry Basecamp features twin bed modules for guests, a spacious module for dining and après-ski activities, an expedition banya (steam room) module with a hot shower, and a modern bio-toilet. It also has electricity (socket outlets in the dining module) and a Wi-Fi spot.
Basecamp is managed by dedicated staff who are present at the location all the time and can help with any issues.
All modules we use are two-layer winter tents with a sturdy aluminium alloy framework (16 mm D) and insulated three layers floors (rubber water-resistant layer, insulation, and carpet). They are heated individually with piping hot wood-burning stoves that can run on a single batch of wood for 3 to 6 hours. For better fire protection, the tents are made of self-extinguishing fabric. All tents are fully furnished to be fit for the purpose and have everything that one would need for a backcountry experience.
The guest tents have beds and bedding, including bed linen, pillows and duvets, a bedside table, storage containers for clothes and other belongings, and an area to air-dry apparel and gear.
The shared module is fully equipped for dining and leisure activities, with tables, chairs, and dinnerware. It also has socket outlets to charge gadgets, mobile phones, and walkies-talkies.
The sauna module is a traditional expedition steam room (inside temperature is up to 95°C (203°F)) with benches and a wooden floor. A hot shower is settled inside the module.
Please see the modules we use in Backcountry Basecamp:
Spacious heated modular tent with an insulated floor accommodating 10–14 people. Floor space: 22 m2 (6 x 3.6 m), height: 2.5 m. Equipped with dinnerware, dining furniture, and socket outlets. Can be used for group meetings, après-ski activities or as a chill-out area.
Twin bed heated tents with insulated floors. Floor space: 6 m2 (3.1 x 2 m), height: 2 m. Equipped with two beds (bed linen, pillows, duvets provided), a bedside table, storage containers, and a drying area for clothes and gear.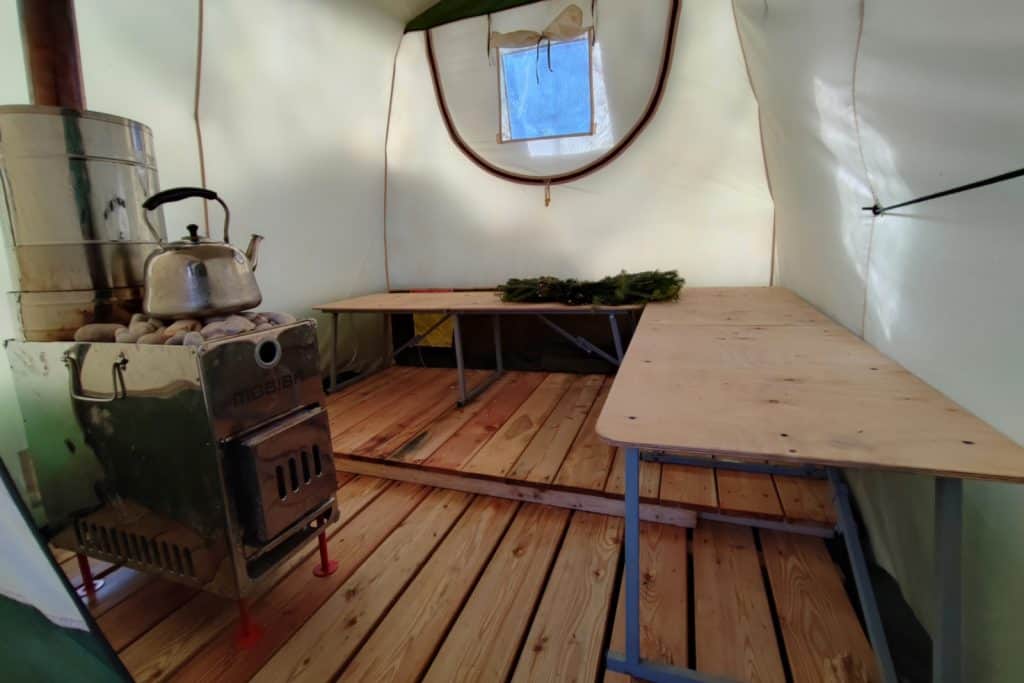 Expedition sauna with two zones: entrance room and steam room. Floor area: 6 m2 (3.1 x 2 m), height: 2 m. Available daily.
We organize full board catering with meals cooked by a dedicated chef (Georgian and European cuisine). We do not use dehydrated or expedition sets—only warm homemade food! The meals are served in the dining tent in three formats: breakfast—buffet, lunch—starters and warm soups, dinner—starters and warm meals. Traditional Georgian red and white wines and chacha (Georgian brandy) are served every evening. We can also stock up with other alcoholic drinks upon request made in advance.
Note. If you have any specific food preferences or allergies, kindly ask to inform us in advance.
We arrange private car transfer from the guesthouse in Oni to the approach entry point for all guests. The car transfer takes 40–60 minutes; the time can be individually adjusted to your needs.
After arriving at the approach entry point, we skin up to Basecamp. The approach trail is an old forest road in an avalanche-free zone with a comfortable uphill trek's angle. We suggest carrying small volume backpacks with a minimum set of apparel/gear. All other gear will be transported to Basecamp by a snowmobile. With a vertical gain of 600 meters, and 3.5 km total distance, the approach normally takes less than two hours.
On the last day in Basecamp, we pack up the gear for the snowmobile and have an almost full day of skitour. Upon return to the camp, we ski the same forest road down to the transfer car. There are a few flat segments in the middle of the road, where you may have to walk a bit.
We will start the descent no later than 5 pm.
The first and the last night accommodation is in Gallery—a family-run cozy guesthouse in the town of Oni. Accommodation type: twin hotel rooms, full board. This is the best accommodation option in Racha of this writing. Should there emerge other options, we will surely consider them.
The nearest large hospital is in the town of Ambrolauri in 54 km/1.2-hour drive from our camp. A rescue sledge is available in Basecamp; it takes 20–40 minutes to descent a person to the car. The rescue sledge and snowmobile can also operate in the alpine area above the camp line.
We consider a helicopter option for emergencies. We are negotiating it with a local helicopter operator and will update the information if it is settled.
We can also help to organize visits to touristic sites:
-    Prometheus Cave
-    Okatse Canyon
-    Martvili Canyon
-    Thermal springs (near Kutaisi)
-    One-day wine tours
-    Local lore museum in Oni